Competition organised by Architize
3rd Prize Winner
February 2019
AIM OF THE COMPETITION: The aim of the competition is to create a tomb for any person (or group of persons) who're no more, and who have left a significant impact on humanity.  This structure (tomb, mausoleum, cenotaph, memorial) must capture the essence of the person, and portray it in an architectural form.
'Movement is life;' and it is well to be able to forget the past, and kill the present by continual change.
Jules Verne
Jules Verne
Jules Verne (1828-1905) is considered a major literary author in France and most of Europe. He is cited as one of the founders of the literary genre science fiction, considering that he involved elements of technology that were fantastic for his day but would later became commonplace. His goal was rather to "depict the earth [and] at the same time to realize a very high ideal of beauty of style".

The Site
The site of the tomb is located in Nantes, where Verne was born, spent his youth and affected his childhood memories, a source of dream and inspiration for his work's "Extraordinary voyages". As two museums of Jules Verne are near the river Loire, the site seems ideal for a new memorial public space, creating a potential connection with them.
"A labyrinth of galleries, some higher than the most lofty cathedrals, others like cloisters, narrow and winding — these following a horizontal line, those on an incline or running obliquely in all directions — connected the caverns and allowed free communication between them."
The underground city,  Jules Verne

The Tomb as a Labyrinth
The ideal house for Verne to "rest" is an endless space where people can observe, meet, share knowledge and "notionally" travel. The proposal consists of an underground world that is concealed by a garden-like park on top. Only a few entrances and light-wells reveal its existence below. Inside this underground labyrinth the visitor can wander and discover new spaces, on different levels, varying in size and proportion. While trying to find the liberating end, one chooses different paths but surrenders to the many turns life takes. The promenade nevertheless is seemingly endless like the desire for knowledge. As life goes on, movement is eternal. The place where Verne "lays" is a spot in a small courtyard under a tree. His legacy however continues to exist throughout the labyrinth by means of memory and knowledge. A space that worships Verne's spirit provides a fictional and educational journey, where life triumphs over death.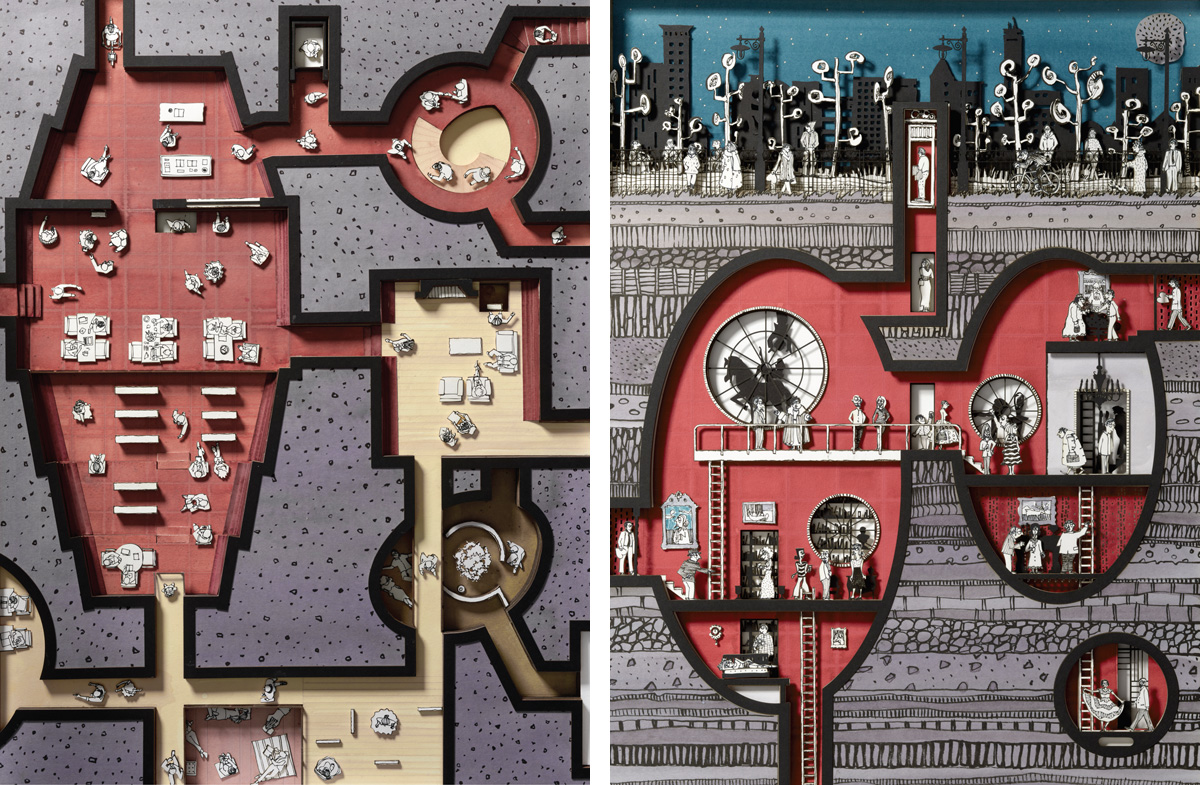 Project Team: Philippos Photiadis, Ersi Vyrgioti, Haritina Trikka, Evita Simaresi
Photos: George Vdokakis