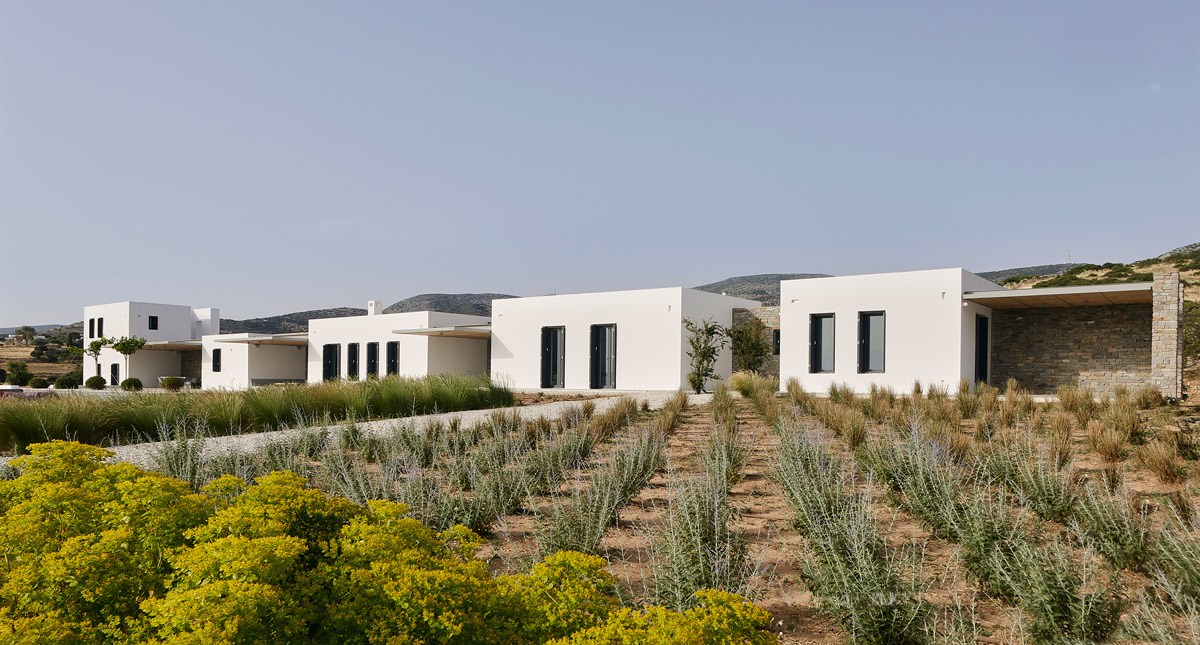 The house is situated on an almost flat, 8000 square meter, west facing land with panoramic views to the sea and the bay of Farangas in Paros island, Greece.
The brief called for a summer house that would provide generous spaces for a family of four, plus, with exterior access, three guest rooms, housekeeper's room and small gym. Building regulations dictated fragmentation of the structure, limitations on the size, footprint and height, as well as compliance with the vernacular Cycladic architecture in terms of wall materials and aperture proportions.
One of the primary decisions was to linearly spread the house in order to ensure sea view from each space of primary use. The house was thought out as a long building envelope crossed by a stone wall, a zone that contains service areas and defines a linear circulation. Living areas to be located in the center, family bedrooms to the south and guest rooms to the north. Room volumes were then shifted back and forth along this stone spine to form outside areas of intimate size. Exterior covered spaces for seating and eating are thus found in front, towards the pool and sea, whereas the entrance, service zones and protected courts are located in the back.
The site is planted with local flora, ranging from shrubs and herbs to olive groves and pomegranate trees, contrasting the monochromatic palette of the building. A dune at the edge of the plot hides the low traffic street bordering the site and visually connects the garden to the sea in the background.
Design 2016 | Construction 2017-2019

Architecture project team: Ph. Photiadis, P. Giannakopoulos, P. Rahmatkah | Structural: Th.Bizas | Mechanical: Dr. E. Pariotis | Local architect: E. Biza | Landscape: Eva Papadimitriou – OUTSIDE | Lighting: FOSS A.E. | Decoration: S. Vantaraki- THINGK | Construction: DCDK Constructions | Photographs: George Vdokakis